A Dutch oven is my favourite piece of cooking equipment to use during winter. It's just so easy to create meals that really pack a flavour punch with one of these bad boys, just like this super easy Dutch oven beef and chick pea soup.
In this day and age some of our cooking equipment is pretty high-tech, so I really enjoy the beauty and simplicity of the Dutch oven. There is something very satisfying surrounding the technique of cooking all the ingredients in the one simple vessel. Just kind of like the way it has been done for over 300 years. And to this day the method still stands up as a really easy way to make a great meal with complex flavours.
I really prefer the cast iron Dutch ovens to clay or ceramic type casserole dishes because you can heat and cook ingredients straight on the stove-top. I also prefer to cook a stew or casserole in the Dutch oven as opposed to just using a covered pot on the stove-top, because you don't have to worry about the bottom of the pot catching. You simply put it in the oven and take it out when it's done. What could be easier!
During the winter months the Dutch oven really gets a hammering at our house. I love to make a soup like this one in it on a Sunday afternoon. There's minimal prep involved and there's something very relaxing about slow cooking. It's just such a great way to take it easy before the beginning of a new week. For this super easy Dutch oven beef and chick pea soup there is no need to sauté the vegetables first or even brown the meat. You simply throw all the ingredients in together. I've used rump steak, which is what we call top round steak in New Zealand. But you can use any tough cut that's suitable for stewing or braising, like chuck steak etc. If chick peas aren't your thing, or even in your pantry then you can bulk this soup up simply by adding some small diced potatoes to the Dutch oven in the last 45 minutes of cooking. This soup also freezes really well.
If you don't have a cast iron type Dutch oven you can still make this soup in a ceramic or clay type lidded casserole dish or pot. There are two ways you can go about it. You can heat all the ingredients in a pot on the stove top and then transfer it to your ceramic or clay dish before putting it in the oven. Otherwise you can just place all the ingredients cold into the ceramic or clay dish and put it straight in the oven. This will just mean that you will have to I erase the overall cook time as it will take extra time to heat the soup in the oven. The soup will be done when you can easily cut the beef with a spoon.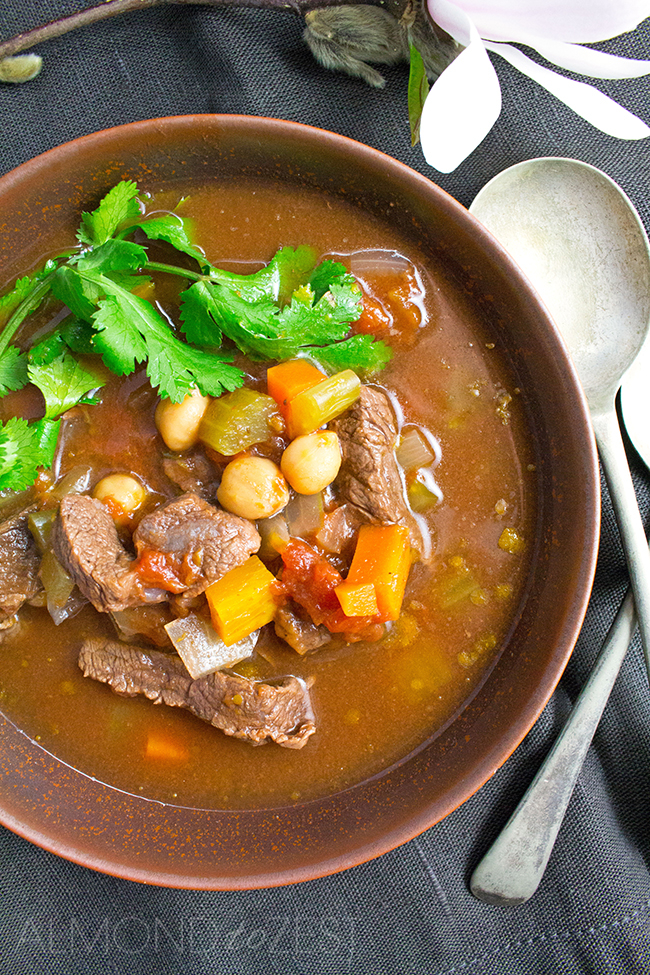 However if you don't have one, I reckon that a cast iron Dutch oven is a sound investment. These things are pretty much indestructible and should last you a lifetime. I think every foodie dreams of having a Le Creuset like this one. However the cheaper ones, like this one or one of the most popular ones here, all work fine and should last forever as long as you look after them. My tip would be to make sure that if you do get food caked or baked on to your cast iron Dutch oven, just soak it overnight then clean with a plastic brush or soft sponge. I would try to avoid using steel wool or an abrasive scourer which although won't ruin the Dutch oven, may leave scratches in the enamel.
Enjoy!