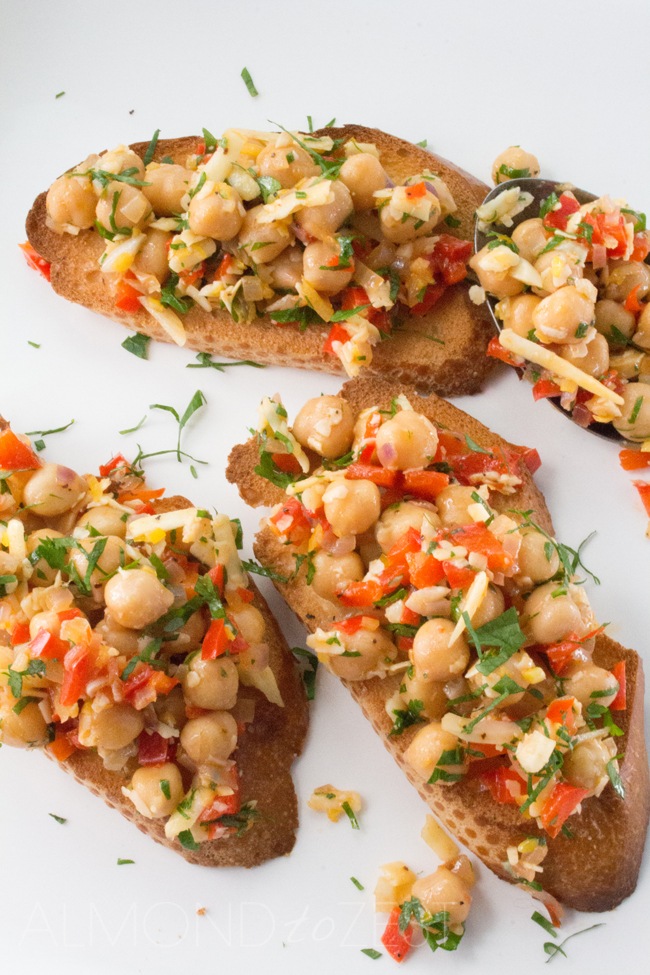 12 slices of French bread/ Baggette
4 tablespoons olive oil
salt & pepper
1 red onion
2 cloves garlic
½ red bell pepper
15oz (400g) can chick peas (drained & rinsed)
zest & juice of 1 lemon
½ cup grated parmesan
⅓ cup chopped parsley
Make the crostini. Heat oven to 390 (200C). Brush each side of the pieces of bread with olive oil, season and place on a baking tray. Place in the oven for 3 minutes, turn them over and cook for another 3 minutes or until nicely toasted.
Finely dice the onion, garlic and bell pepper. Heat the remaining olive oil in a saucepan and sauté for around 5 minutes until the onion and garlic has softened.
Transfer the mix to a mixing bowl. Add the chick peas, lemon juice, zest and parsley. Season and give a good mix.
To serve spoon the chick pea mix onto the crostini.