With a delicious mix of vodka, apple juice, mint and passion fruit, you are going to love how quick and easy this refreshing Va-Va Voom cocktail is to create.
Ok guys, today I want to introduce you this magnificent cocktail, the Va-Va Voom. This is currently on the cocktail list at the bar that I work at and would hands down be the most popular cocktail on the list. Everybody just loves it!!
With a delicious mix of cloudy apple juice, a dash of passion fruit pulp and a good splash of vodka, what's not to love? Right?
This is a great cocktail to add to your arsenal if you are new to the whole cocktail thing. Which is why I chose it to be the second cocktail in my new series for building your own bar. It is super quick and easy to prepare. Is extremely refreshing, a great one to make on those scorching summer days. And all you are going to need to create it is a highball glass, a bar spoon, a lemon squeezer and of course the ingredients. And it's all pretty simple from here on in.
This cocktail is what us bartenders like to call, a built drink. And as the name suggests, all you do is build it over ice in your glass. No shaking, straining or muddling required. Making it the easiest kind of cocktail to create.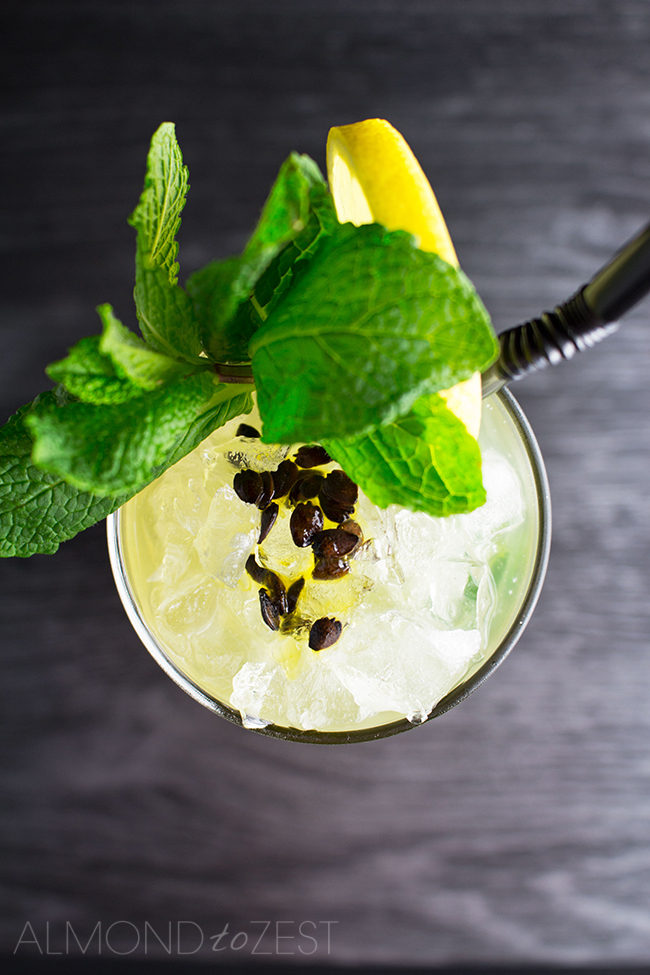 So, like I just mentioned the first step is to fill you glass with ice, about ¾ full will do.
Now grab your mint leaves, place them in the palm of one hand and slap them a couple of times using your other hand. Like a clapping motion. By doing this you release the oils/ essence in the leaves, bringing out the minty flavor of the leaves. Spoon the passion fruit pulp over the mint leaves.
Next measure out your vodka with your jigger and pour it over the ice. Then measure out your apple juice and pour it over the vodka. I use a cloudy Apple juice for this cocktail, as it is sweeter and not as tart as regular Apple juice.
Next squeeze ½ a lemon into the glass, you can use a lemon squeezer or your hands. Just make sure if you us the latter that you capture all the seeds cause no one likes to suck up a lemon seed through their straw. Like most cocktails having a sour ingredient is crucial to balancing out the sweetness that most cocktails have. In this cocktail the lemon is used to cut through the sweetness from the Apple juice and passion fruit pulp.
Now all you have to do is give the cocktail a little mix with your bar spoon. I find the best way is too put the spoon into the glass and roll the spoon handle between my thumb and fingers whilst lifting the spoon up and down. This twists and lifts all the ingredients in the glass more evenly. And if you don't have a bar spoon you can use a regular spoon, but use the spoon handle rather than the spoon end, it will fit into your glass easier. But I suggest that if you want to have a basic bar set up that you invest in one, they are inexpensive and make mixing drinks and floating ingredients a lot easier.
To finish off, add a little more ice and top with either lemonade, soda or sparkling water. Garnish with mint sprig, a slice of lemon and an extra dollop of passion fruit pulp and your done.
Too easy right?
Quick, easy and refreshing is what this Va-Va Voom cocktail is all about. This cocktail is also great when refreshing a crowd as it can quite easily be made into a pitcher, just multiply the recipe to suit your pitchers size. Eg. Multiple the recipe 4 times for a 4 cup pitcher, or 6 times for a 6 cup pitcher etc…
Plus it also makes for a great mocktail. Just replace the vodka with extra Apple juice, making it a fantastic treat for the kids. Or of course yourself!!
Well I hope you guys love this, and let me know if you try it by commenting below. Till next time.
Cheers!!
Va-Va Voom Cocktail
Ingredients
6

mint leaves

3

tsp

passion fruit pulp

1 ½

ounces/ 45 mls Vodka

1 ½

ounces/ 45 mls cloudy Apple juice

Juice of ½ a lemon

1

ounces/ 30 mls lemonade/ soda water/ sparkling water

Ice
Instructions
Fill highball glass ¾ full of ice. Slap mint leaves and place into glass, followed by passion fruit pulp.

Pour vodka, Apple juice and lemon juice into glass. Mix with bar spoon using a twisting up and down motion.

Add more ice to top of glass and top with your choice of lemonade, soda or sparkling water. Garnish with mint sprig, a lemon slice and an extra dollop of passion fruit pulp.

Drink up…cheers!!!