This cocktail is light and refreshing and was inspired by the thought of what would happen when a Mint Julep meets a Peach Iced Tea.
I have an abundance of peaches at the moment that have all come from my very own organic Peach tree. This year I had a bumper crop and got to harvest almost all the peaches bar a few that the birds got to. So it has been peach madness at our house. Not that I mind cause damn these peaches are good, so sweet and juicy… who wouldn't have the thought to muddle them up and shake them up with splashes of Wild Turkey American Honey. I know I did!!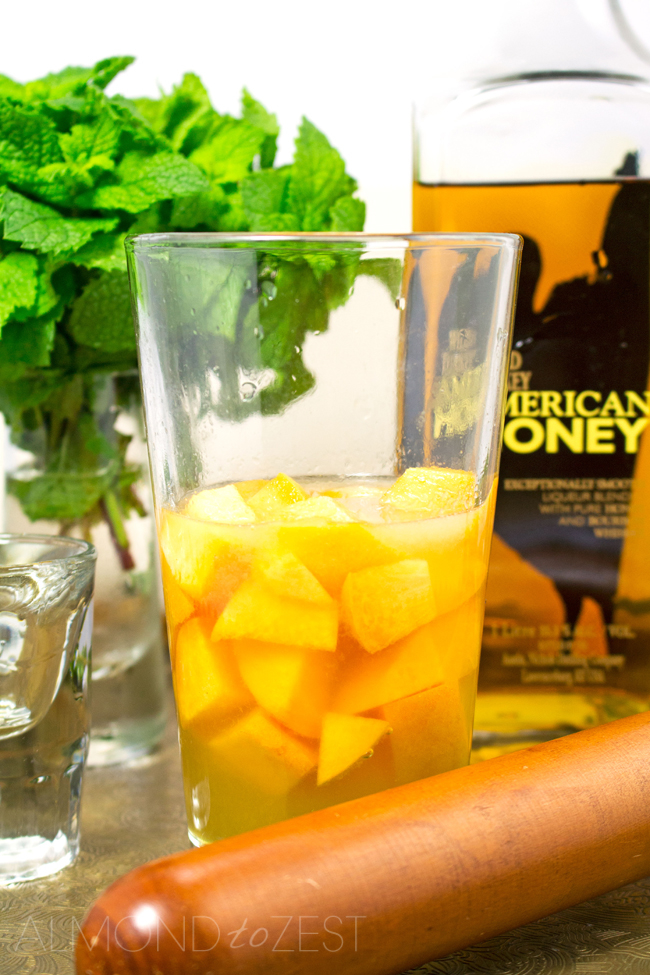 This spectacular cocktail is best enjoyed in a comfy chair on the back deck watching the sun go down after a hard days work. Now you cant get more Kentucky than that? And don't worry if you don't have any Wild Turkey American Honey at your pad you can swap it for regular bourbon.
Enjoy.

Georgia Spiced Tea
Ingredients
1 peach, chopped
Juice of 1 Lemon
10 mint leaves
3 ounces (90mls) Wild turkey American Honey
Ginger beer
Ice / crushed ice
Slices of peach/ lemon and mint springs to garnish (optional)
Instructions
In a cocktail shaker muddle peaches with a muddler for about one minute.
Add alcohol and lemon juice. Bruise mint by slapping in hand to release flavour and drop into shaker. Fill shaker with ice and shake for about 20-30 secs.
Fill cocktail glass with ice* and strain shaker liquid into glass. Top with more ice and fill glass with ginger beer.
Garnish with slices of peaches and lemon and a mint sprig if desired.
I use crushed ice for this drink but if you don't have an ice crusher regular ice cubes will do.
A Simple Weight Loss Plan
If you're still unsure about how to eat, what to eat or what to avoid, don't worry you're not alone. There is a little-known diet plan called the Flat Belly Fix which will teach you these things. Getting that in check will increase your metabolism and allow you to shed weight and shed it fast.Women who have followed the Flat Belly Fix reported losing up to 21 pounds and 2-4 inches from their waist in just a matter of 3 weeks—the methods in the Flat Belly Fix are all backed by science.The Flat Belly Fix is the only 21-day rapid weight loss system that allows women to lose an average of 1 lb a day for 21 days—without feeling hungry or deprived!Check out this video on the Flat Belly Fix now to learn more about how to follow the diet—and get to your ideal weight in 21 days.