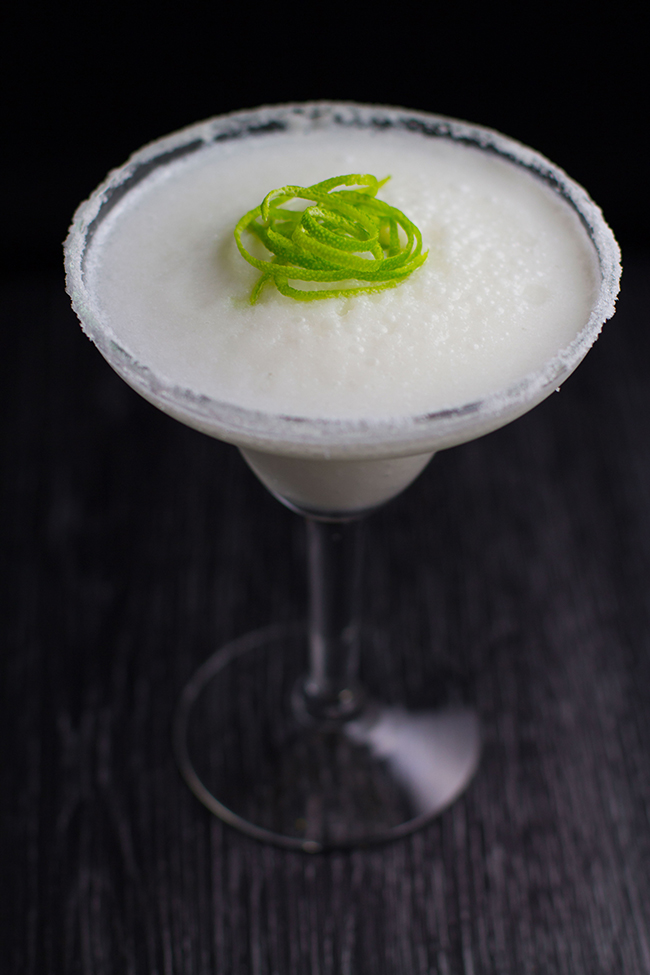 It's time to pull that blender out of the cupboard and start blitzing up some of my refreshing Creamy Coconut and Lime Frozen Margaritas.
Hey there fellow at home bartenders, how are we all doing? I hope you guys have been enjoying this little series of mine on how to build your own home bar. And if you don't know what going on here, you can read up about it HERE and follow along on the journey.
Now if you have been following along on this exciting journey then you will know that last week we introduced a new bottle to our collection, tequila, and we made our sixth cocktail in the series, a CLASSIC MARGARITA with it.
I love margaritas which is why I am so excited about today's post, cause we get to upgrade those classic styled margaritas and make frozen margaritas. But not just any frozen margaritas, Creamy Coconut and Lime Frozen Margaritas.
How good does that sound right?
I think you guys are truly going to fall in love with these Creamy Coconut and Lime Frozen Margaritas, they are just so damn delicious. Their smooth, icy texture that transforms into a creamy liquid once slightly melted. And its refreshing flavor combination of coconut and zesty lime which matches perfectly with its salted rim.
True heaven I tell ya!!!
These Creamy Coconut and Lime Frozen Margaritas take no time at all to whiz up, but they do require a bit of day-before prep. To make these margaritas I combine equal parts of coconut milk and coconut water together and freeze them to make ice cubes. Once blitzed up this gives the cocktail the thick icy texture that we all love in a frozen margarita but also gives it a creamy finish without watering it down.
Once these ice cubes are frozen all you will need is your bottle of tequila and Cointreau, your JIGGER, LEMON SQUEEZER, a blender, two margarita or rocks glass and a plate for the salt to rim the glass.
Firstly you want to prepare the glasses by giving them a salted rim. To do this run a wedge of lime over the rim of each glass, then twist the rim on the plate till the rim is covered in salt. To get rid of any loose salt tap the bottom of the glass whilst still upside down.
Next place all the ice cubes into your blender. Using your jigger measure out tequila, Cointreau and sugar syrup and pour into blender.
Then squeeze the lime juice in by using lemon squeezer. Too make sure that you extract the maximum amount of juice from the limes, roll limes on the bench with the palm of your hand. Kinda like a kneading movement, applying a light pressure whilst rolling. Do this about 10 times.
Place the lid on the blender and blitz until smooth. My blender has a cocktail setting on it that is quite helpful otherwise just keep blending till all the ice cubes are blitzed, which should take about a minute or two.
Divide liquid between the two glasses making sure that the liquid does not touch the salted rim, you don't want it to seep into the drink.
Then kick back in the sun and sip away on this delightful refreshing cocktail.
And if you try it and love it let me know by leaving a comment below.
Cheers friend and until next time enjoy.

Creamy Coconut and Lime Frozen Margaritas
Ingredients
For the ice cubes
¾ cup of coconut water
¾ cup of coconut milk
For the cocktail
3oz (90mls) tequila
1oz (30mls) Cointreau
1oz (30mls) sugar syrup
Juice of two limes
Salt and lime wedge
Instructions
Mix coconut milk and coconut water together in a container then pour into a 16 cube ice cube tray. Freeze over night.
The next day prepare margarita or rock glasses with salt rim. Run lime wedge over rim of glasses then twist rim over salt on plate.
Next place all cocktail ingredients and ice cubes into blender and blend till smooth.
Divide into the two glasses making sure that the liquid does not touch the salt rim.
Drink and enjoy.
A Secret 'Carb Trick' That Burns Up To 1 Pound Per Day
If you're like most women trying to lose weight… you diet, you count calories, you tear up the treadmill, and… nothing.
That's how 40-year-old Sarah Donovan, an overweight mother with prediabetes was feeling…
She did "everything right" and never lost an inch.
Until she stumbled on this strange "carb-pairing" trick and burned away an unheard of 22lbs pounds in just 13 days.
And because of this one simple shift in her eating, she shed pounds and inches from her body without starving herself and without a lick of exercise!
With the same "carb-pairing" trick Sarah dropped a total of 37lbs in the FIRST month and she shocked her doctor by completely reversing ALL pre-diabetes symptoms!
If you're a woman over the age of 25 who wants to reclaim her life inside the body she DESERVES, you should check it out for yourself.