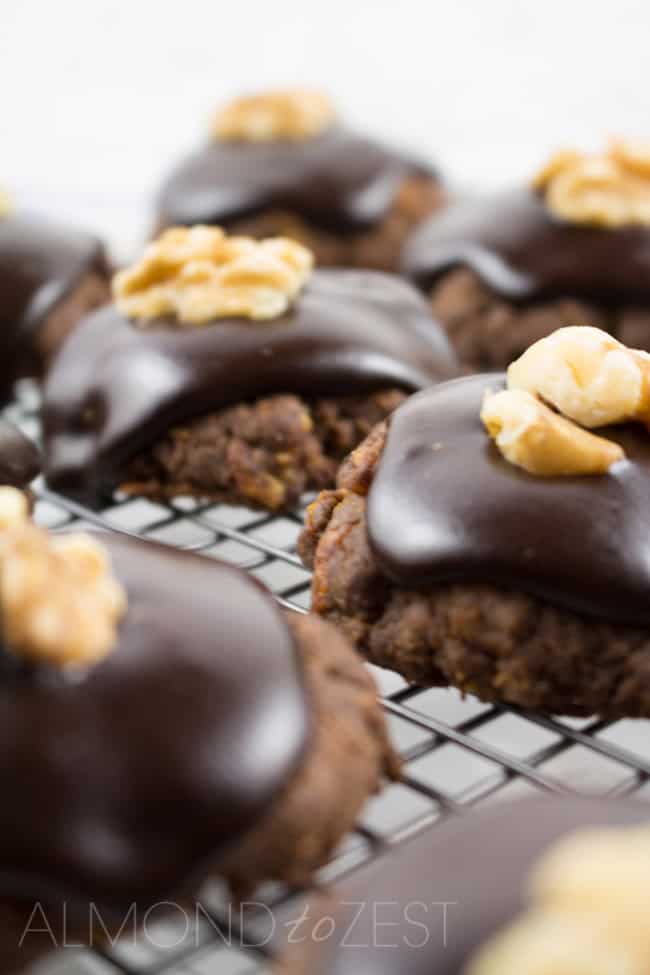 These cookies are known as Afghans in New Zealand and are somewhat of a Kiwi icon. No matter which town you travel to you are no doubt going to come across them in the local café's or bakeries. Nobody knows where they originated from or why they are called Afghans, all I can tell you is that these simple little cookies are tasty little morsels.
The three best things about these cookies are the chocolate icing, the cornflakes and the walnut. The first thing your teeth dig into is the soft chocolate icing that leads you to the top of the cookie itself. The next part requires a bit more force as you bite through the chocolate cookie that is scattered with crunchy cornflakes. The best bit though is when you make it to the middle and meet the lone walnut, it just adds that extra flavor sensation that would not be appreciated if the whole top was coated in them.
These cookies will last for a week when kept in an airtight container in a dry cool place.
Enjoy.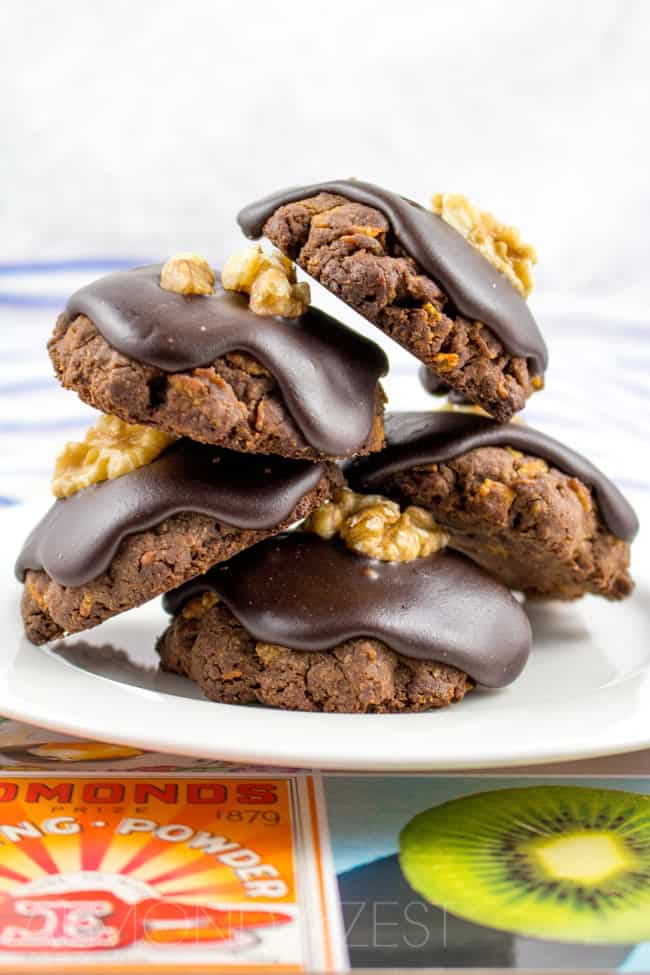 Chocolate Crunch Cookies (Afghans)
Ingredients
Cookie
6oz (170g) butter
½ cup white sugar
3 tablespoons cocoa powder
1 ¼ cups plain flour
2 cups cornflakes
Chocolate Frosting
3 ½ oz (100g) butter
2 tablespoons cocoa powder
1 cup icing sugar
2 tablespoons boiling water
12 walnut half's or equivalent in walnut pieces
Instructions
Heat your oven to 350 (180C) and line a cookie tray with parchment paper.
Take a medium sized saucepan and add the butter, sugar and cocoa powder. Place on a low heat until the butter melts.
Mix in the flour and cornflakes.
Spoon the mixture into 12 even balls pressing together with your hands and pat them down on the cookie tray. Bake for around 18 minutes until set. Let sit on the tray for 5 minutes before transferring to a wire rack to cool.
To prepare the chocolate frosting take a small saucepan and melt the butter over a low heat, stir in the cocoa powder and icing sugar and mix together with a small whisk, then beat in enough of the hot water until the desired consistency is obtained. When the cookies are cold top with chocolate frosting and a walnut half.
A Simple Weight Loss Plan
If you're still unsure about how to eat, what to eat or what to avoid, don't worry you're not alone. There is a little-known diet plan called the Flat Belly Fix which will teach you these things. Getting that in check will increase your metabolism and allow you to shed weight and shed it fast.Women who have followed the Flat Belly Fix reported losing up to 21 pounds and 2-4 inches from their waist in just a matter of 3 weeks—the methods in the Flat Belly Fix are all backed by science.The Flat Belly Fix is the only 21-day rapid weight loss system that allows women to lose an average of 1 lb a day for 21 days—without feeling hungry or deprived!Check out this video on the Flat Belly Fix now to learn more about how to follow the diet—and get to your ideal weight in 21 days.