This quick and simple 6-ingredient salad is absolutely delicious and can be on your table in less than 30 minutes.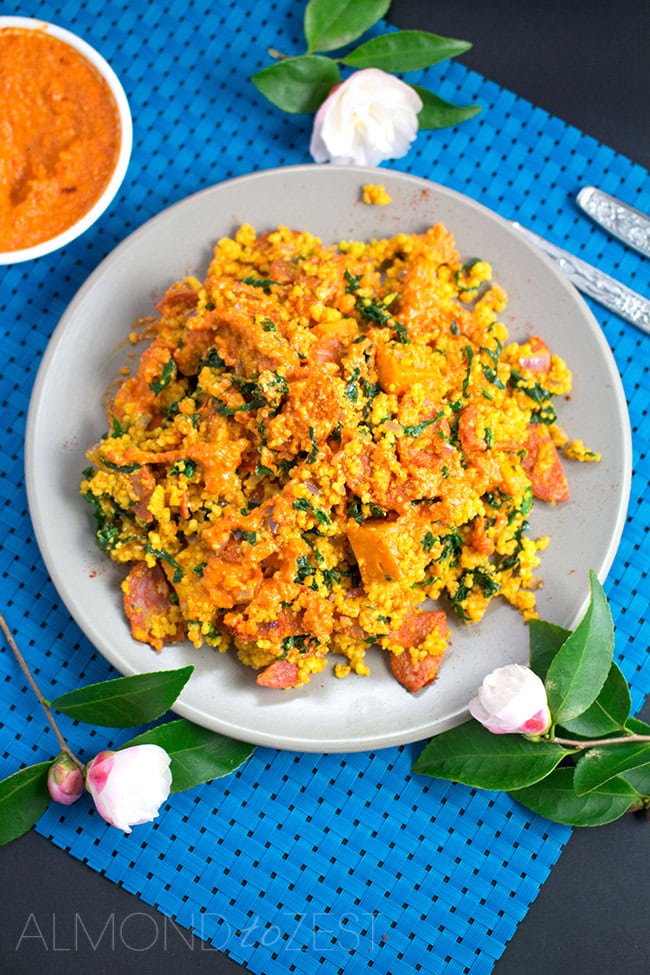 Even though winter has come into full swing down here in little NZ I have still been eating heaps and heaps of salad. Weird I know!! But I find if I don't give my body a weekly fix of healthiness in the form of a salad then all I ended up doing is eating a whole lot of carb loaded comfort food. And when I say salad I'm not talking about your every day crisp lettuce variety, I'm talking about salads that fill your plates with perfectly caramelized roasted vegetables, speckled with a grain-like ingredient and coated in an amazing dressing. Like this fuss-free, 6-ingredient salad that I am loving right now.
This effortless salad comes together in just a few simple steps. To start it all off you need to prepare one of the main ingredients, the sweet potato, or Kumara as it's known as here in New Zealand. Peel, chop into cubes and roast in the oven for about 20 minutes or until soft, tender and slightly caramelized.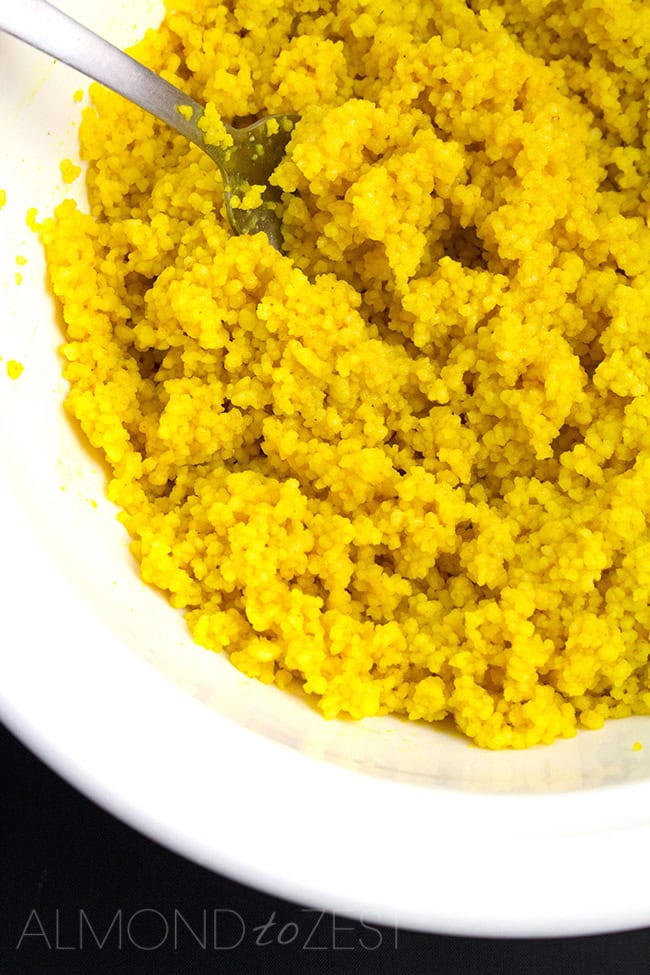 While the sweet potato is roasting away you can cook the couscous. Unfortunately couscous is pretty flavorless, so to make this salad taste and look amazing I add a touch of turmeric to the water. Turmeric is super on trend at the moment due to its amazing health benefits and anti-inflammatory abilities. The trendiest way to get this stuff into your diets at the moment is by dissolving it into milk and drinking it, usually named golden milk or tea. But to be honest, I'm not so big on the whole staining your teeth thing that goes along with this method, so I find the best way to incorporate it into my food and diet is by adding it into grains like my CHICKPEA & BULAR WHEAT PATTIES and my ISRAELI COUSCOUS GREEK SALAD.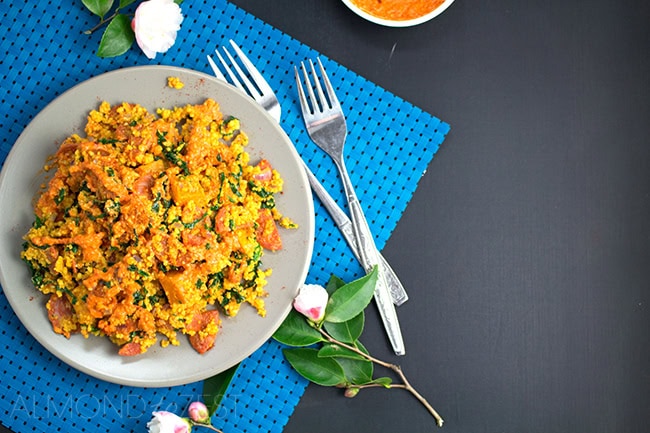 Complete the salad by simply adding the sautéed red onion and spicy chorizo with the heated spinach. Then toss all the ingredients together with a generous dollop of my smoky flavored, dairy free RED BELL PEPPER PESTO. And there you have it, a quick and easy weekday meal that can be enjoyed hot or cold, for lunch or dinner, as a side or a stand-alone meal.
Enjoy.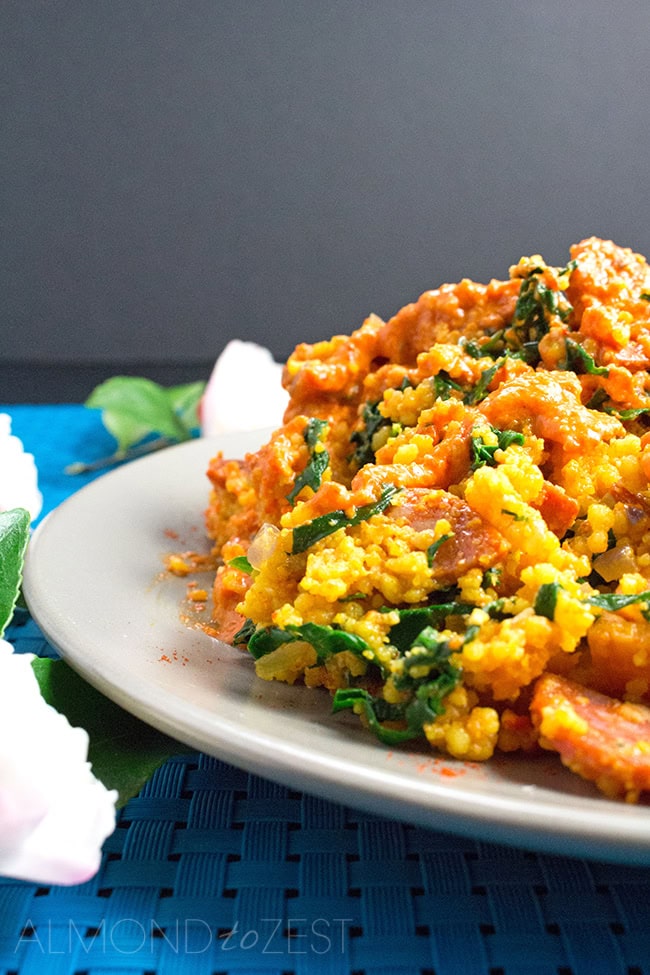 Ingredients
2

medium sized kumara or sweet potato

4

tablespoons

olive oil

1

cup

couscous

1

teaspoon

turmeric powder

salt to taste

2

tablespoons

butter

2

cups

boiling water

1

red onion finely diced

3½

oz

100g cured Spanish chorizo sausage finely sliced into half moons

2

cups

spinach leaves washed and shredded

1/3

cup

ROASTED RED BELL PEPPER PESTO
Instructions
Heat oven to 425 (220C) and line a large baking tray with parchment paper. Peel your kumara or sweet potato and cut into rough cubes. Place on the baking tray and drizzle over 3 tablespoons of olive oil and season with salt & pepper. Place in oven for around 20 minutes until done, giving a little stir half way through. They will be ready when you can gently poke a knife through with little resistance.

To prepare the couscous take a medium sized bowl and stir together the couscous, turmeric and good pinch of salt. Add the butter to the mixing bowl and pour over 2 cups of boiling water. Quickly cover with plastic wrap. Set aside until all the water has absorbed (this will take 10-15 min) then fluff with a fork.

Heat the remaining olive oil in a pan over a medium to high heat and sauté the diced red onion until tender, add the chorizo and continue to cook whilst stirring for another minute. Transfer the red onion and chorizo mixture into the bowl with the cooked couscous.

Return the pan to the heat and drop in the shredded spinach leaves and toss for a minute or so until the spinach has wilted down. Add to the couscous along with the RED BELL PEPPER PESTO and give it all a good toss to ensure it is mixed well. Add seasoning if required.
This salad can be served warm when assembled or made ahead of time and be served cold from the refrigerator or reheated if required.