Delicious peanut m&m cookies are quick and easy to make and a great option for vegetarians too!
Big, soft and chewy these cookies are bursting with lots and lots of peanut M&M's.
Vegetarian peanut m&m cookies
These cookies are to die for.
They are soooo good and have definitely become my new favorite.
You really cannot stop yourself at eating just one, which is why I have made about a million batches of them this week.
Talk about calorie overload, but oh well they are totally worth it.
Quick and easy to make
The great thing about this recipe is that most of you will have these ingredients in your store cupboard right now.
Plus they are super easy to make and are a quick cook, which is a bonus.
Plus it means that as soon as you have finished reading this you can be on your way to cookie heaven.
Even bigger bonus!!!!
You are going to love the texture of these big, soft, buttery cookies.
The dough itself has a melt in your mouth kinda action and the big peanut M&M's gives crunch appeal.
Pretty much a match made in heaven.
But the softness all comes down to the cooking time.
If you cook these babies for too long they will no longer be big softies.
They'll keep just fine
Peanut m&m cookies will last for a week when kept in a dry cool place in an airtight container.
Be sure to check out more of our cookie recipes here!
Enjoy.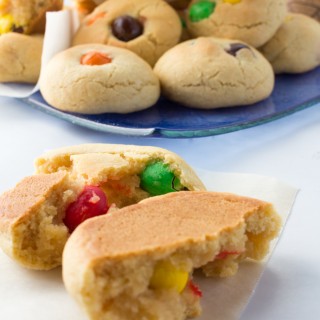 Ingredients
2 ¾

oz

80 g butter

¼

cup

brown sugar

½

cup

white sugar

1

free-range egg

1

teaspoon

vanilla extract

1 ½

cups

of all purpose flour

½

teaspoon

baking soda

¼

teaspoon

salt

7

oz

200g of peanut M&M's
Instructions
Preheat oven to 350 (175C) degrees. Line cookie tray with parchment paper.

Melt butter in microwave for 30-40 seconds until it is in liquid form. In a bowl add butter to sugars and beat until creamy and pale in colour. Add the egg and vanilla extract and beat until egg is just mixed in. Do not over beat, as cookie will become stiff.

Sift flour, baking soda and salt into mixture. With a wooden spoon or spatula mix ingredients together; it should be a crumbly texture. Use hands to knead dough in the bowl so that the mixture creates a ball. Add M&M's and mix.

Roll the dough into 12 balls and place evenly spaced on cookie tray. Cook in oven for 10-11 mins. They should still be pale in colour with a touch of tan when taken out of oven. Do not over bake. Cool for 30 minutes on tray.