With its buttery base, crumbly topping and a filling that is exploding with succulent spiced apples and pears, this delightful festive slice will have you addicted after just one bite.
Ok guys, I am so excited about sharing this Spiced Apple and Pear Crumble Slice with you today, cause it is seriously next level awesome. I have made this slice many a times over the last couple of weeks. Tweaking it a little here and there until I got it just right.
Just the right amount of base. Just the right amount of topping. And just the right amount of spices in just the right amount of fruity filling, which is kinda close to excessive, but so freaking good that you would not want any less. Trust me on this one.
So what makes this Spiced Apple and Pear Crumble Slice so absolutely addictive that you will be so glad that I have shared it with you but thankful for the fact that I made the recipe in a loaf tin size and nothing larger. Well my friends let's start with the base and the topping.
These two are made from the same mixture but are very different in texture. The difference being that half the mixture is pressed into the tin to create a short compact base whilst the other half is left in its crumbly, buttery state and used for the topping.
Only three ingredients make up this mixture, flour, sugar and a hell of a lot of melted butter. Once mixed together these three baking beauties create the most magnificently crumbly mixture, that definitely ain't weight watcher friendly.
Then there is the filling. And oh what a filling it is.
With the perfect ratio of diced apple and pear for that next level flavor combo. That get scooked down with brown sugar and a little bit more butter for good measure, resulting in the most soft and tender pieces of diced fruit that you have ever eaten.
Infused with the flavors of all our favourite spices for the festive season, cinnamon, clove, ginger and nutmeg. Now doesn't that sound like the most amazing filling that a crumble slice could ever have?
This Spiced Apple and Pear Crumble Slice definitely gets better with age, so if you can hold out and try it the next day I highly recommend it. That one-day allows the spices to develop and penetrate giving the slice a more complex flavor. And it also gives time for the base to soften slightly from the moist filling, which can be a little hard on day one.
And if you want to take this slice even one more level higher…..then I totally recommend serving it up with a good scoop of salted caramel ice cream, it's the bomb!!!
Let me know if you give this recipe a go by leaving a comment below.
This Spiced Apple and Pear Crumble Slice will last for around 5 days when kept in an airtight container in a dry cool place. But trust me it won't be around for that long.
Enjoy.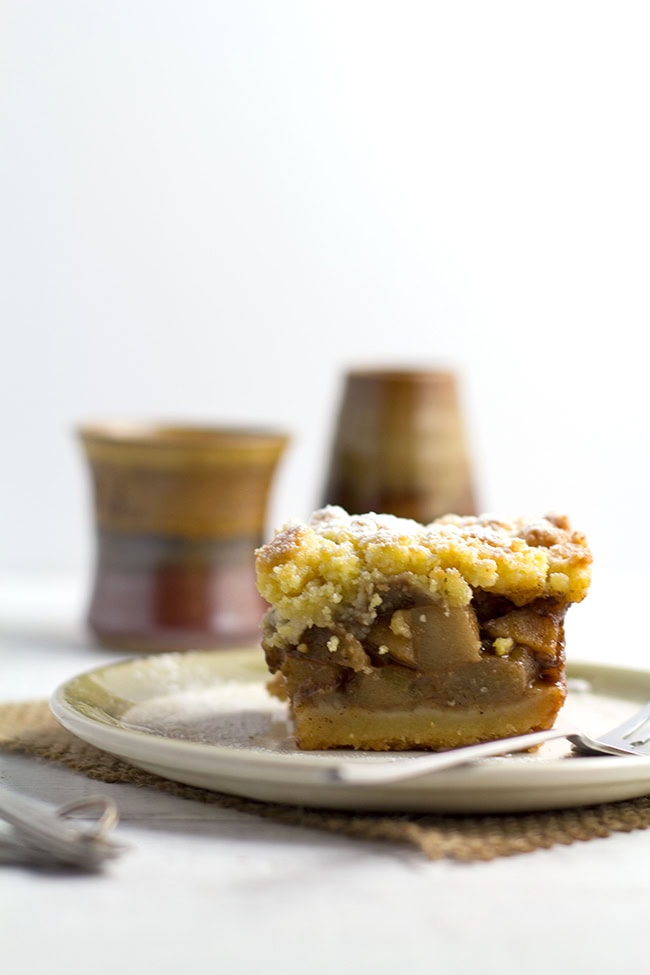 Ingredients
2

cups

of all purpose flour sifted

¾

cup

white sugar

6½

oz

180g butter melted
for the filling
3

apples

peeled, cored and diced

4

pears

peeled, cored and diced

1½

oz

40g butter, cubed

¼

cup

brown sugar

¼

teaspoon

cinnamon

¼

teaspoon

nutmeg

¼

teaspoon

ground ginger

¼

teaspoon

ground cloves
Instructions
Preheat oven to 340 (170C). Line a loaf tin with parchment paper.

Mix flour and sugar together in medium sized bowl. Pour in melted butter and mix till all combined. Place half the mixture evenly into base of loaf tin (5½" x 9½")and press down. Place in fridge for 10 minutes then bake for 15- 20 minutes.

While base is cooking, prepare filling. Place all filling ingredients into large saucepan and mix well over a high heat. Place lid on saucepan and keep covered for around 5 minutes then remove. Continue cooking for another 5 minutes or until fruit is soft and liquid has disappeared.

Once base is cooked spoon filling evenly over base. Then crumble the other half of remaining base mixture as topping. Push lightly so topping sticks to filling. Cook for 25-30 minutes or until golden on top. Allow to cool completely in tin before cutting. Store in an airtight container in a dry cool place for up to 5 days.