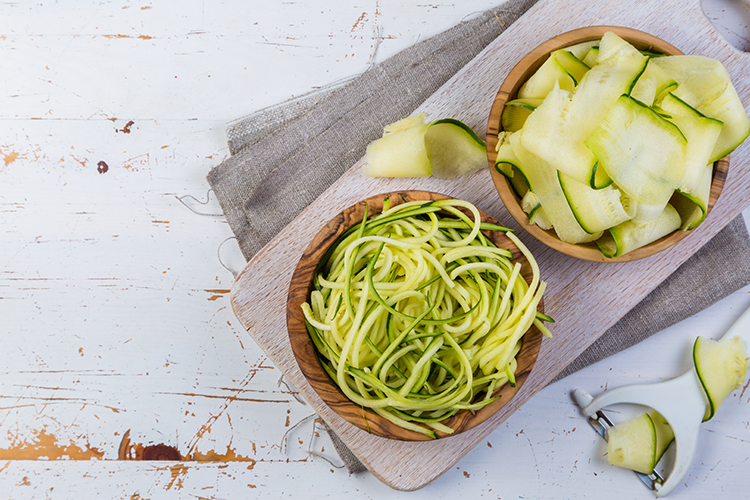 On the menu for lunch today is pasta—not the regular carb-filled pasta but low-carb zucchini noodles with tasty chicken.
Make it tastier by serving with tomato sauce.
You can also enjoy the zucchini pasta with chicken without using any sauce.
Simply fry the chicken and serve on a bed of zucchini noodles.
It's really easy to make this dish, so let's just get straight to it.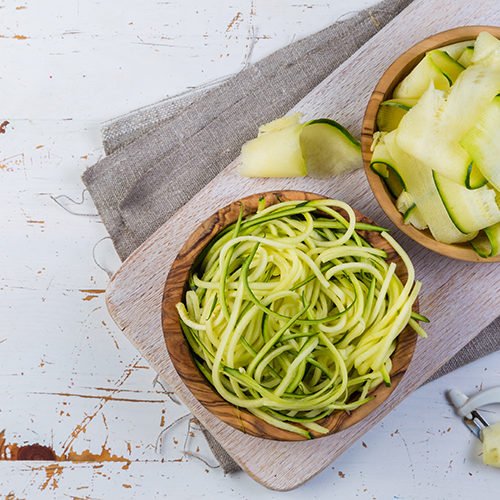 Keto Chicken and Zucchini Pasta
Ingredients  
1

large

Zucchini

2

oz

Chicken Breast

2

tbsp

Olive Oil

2

cloves

Garlic

minced

2

slices

Cheddar Cheese

1

Tomato

1

tbsp

Cilantro

chopped

1

tsp

Black Pepper

1/2

Onion

Salt

to taste
Instructions 
Thoroughly wash the chicken breast and dry properly. Chop the chicken into small pieces and place in a bowl. Add in the black pepper, salt, and minced garlic and allow to marinate the chicken slices.

Place a frying pan over medium heat and pour in olive oil. Fry the marinated chicken slices for about 5 minutes. Allow it to cook until it becomes tender.

Add in the onion and tomato. Allow it to cook for an additional 3 minutes. Remove from heat when the mixture becomes juicy.

Now wash the zucchini and cut off the tips. Begin at the top of a grater, then push the zucchini along the grater to make long and slim ribbons just like noodles. Make sure to do away with the seeds. You can also use a spiralizer to make zucchini spirals instead.

Place the zucchini noodles in a pot with water and boil for 1 minute. Drain the water and set aside. You can also choose to stir-fry the zucchini noodles for 1 to 2 minutes in olive oil if you don't want to boil the noodles.

Place the cheddar cheese in a skillet already preheated. Allow the cheese to become crisp. Remove from heat when it becomes brown at the edges.

Place the boiled (or stir-fried) zucchini noodles inside a plate. Top it with the fried chicken and cheese crisps. Use the slices of tomato and chopped cilantro to garnish it.

Serve and enjoy your tasty lunch!