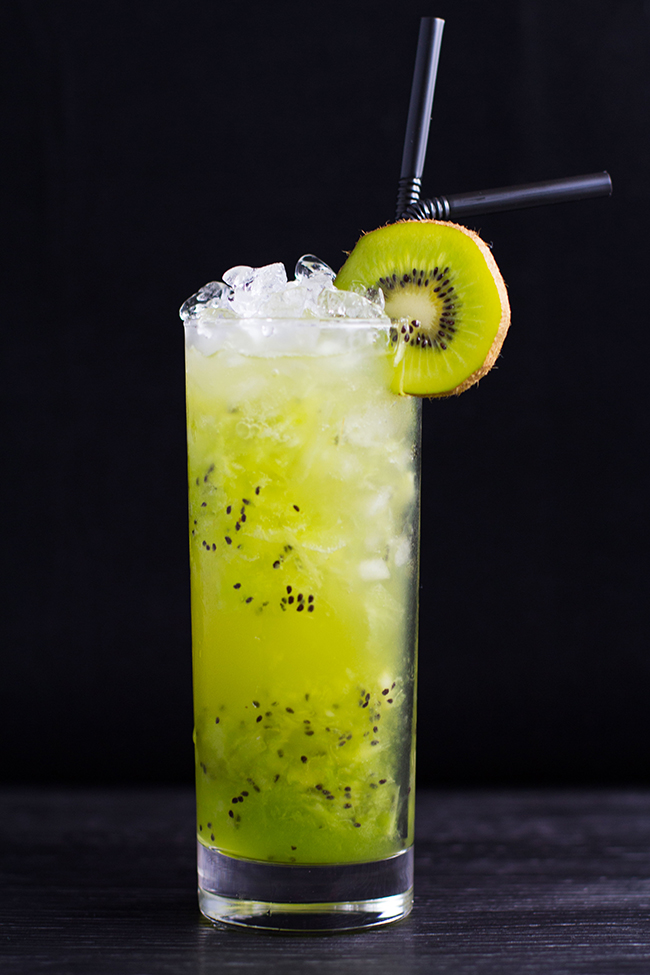 If you love the flavours of New Zealand then you have to try this Mister Green cocktail.  With freshly muddled kiwifruit and cloudy apple juice, you can't get more Kiwi than that.
Hey friends,welcome back for another Midori splashed cocktail. Todays Mister Green cocktail originated from one of the most memorable and outrageously fun bars that I ever worked at. It staffed some of the most amazing people, that shared with me all their cocktail knowledge. And showed me the ropes in the world of bartending.
Which now I get to share with you guys!
Blackbird Cafe in Sydney was the place. And there were two guys in particular that made the biggest impact in my bartending life. Sam who ran the bar. And Emad the floor manager, who you would have thought was a bartender cause of the amount of time he spent behind the bar.
These two guys were like cocktail gods to me.
The way they mixed drinks like there was no tomorrow, made me want to learn everything about mixology.
And the way they flared bottles left, right and centre, mesmerised patrons and myself. It was truely remarkable.
Although I never had the confidence to flare in public. Broken glass flying everywhere is not that impressive.
Now Im not quite sure which one of these two created this Mister Green cocktail, but I do know that it is super delicious and easy to make.
This Mister Green cocktail has a fantastically refreshing flavour of freshly muddled kiwifruit and sweet cloudy apple juice. Which has NZ written all over it don't ya think?
Plus it has the additional flavour of honey dew melon from the Midori. And a splash of vodka to lift the alcohol content.
And what I love about this Mister Green cocktail is that it doesn't even need a sour element.
So to make this Mister Green cocktail you will need your bottle of Midori and vodka. And the equipment you will need is your BOSTON SHAKER, JIGGER, MUDDLER and a highball glass or something similar to serve it in.
Start by peeling and chopping the kiwifruit into pieces. Then place into glass part of your Boston shaker. Using your jigger measure and pour sugar syrup on top.
Next using your muddler, muddle the kiwifruit till it is all broken up and mushy. Then using your jigger again measure and pour Midori and vodka and add to Boston shaker.
Fill 3/4 full with ice. I used crushed ice for this cocktail using an ICE CRUSHER, but regular ice cubed will do. Place metal tin part of your Boston shaker on top of the glass part and shake vigorously for about 15 seconds. Make sure not to over shake if you are using crushed ice or it will become watery.
Dump the contents into the highball glass from the metal tin part of Boston shaker. Measure apple juice with jigger and add to the highball glass. Fill with more ice if needed and garnish with a kiwifruit slice.
And there you have it, a quick and refreshing cocktail that can be enjoyed by all. I hope you guys love this Mister Green cocktail as much as I have enjoyed sharing it with you. And if  you do love it, then you may like to try THIS, THIS or THIS. Don't forget to let me know how you go by leaving a comment below.
Till next time, cheers friends.
Mister Green
Ingredients
1 ounce (30mls) vodka
½ ounce (15mls) Midori
½ ounce (15mls) sugar syrup
1 kiwifruit, peeled and chopped
2 ounce (60mls) cloudy apple juice
crushed ice or regular ice cubes
slice of kiwifruit (garnish)
Instructions
Place kiwifruit pieces into glass part of Boston shaker. Using jigger measure and pour sugar syrup in. Then muddle kiwifruit with muddler until all broken up and mushy.
Using jigger measure and pour vodka and Midori into shaker. Fill shaker ¾ full with ice, attach metal tin part of Boston shaker and shake vigorously for about 15 seconds. Do not over shake if using crushed ice otherwise the cocktail will become watery.
Dump contents into highball glass. Using jigger measure and pour cloudy apple juice into glass. Fill glass with more ice if needed. Garnish with kiwifruit slices.
Drink and enjoy.
A Secret 'Carb Trick' That Burns Up To 1 Pound Per Day
If you're like most women trying to lose weight… you diet, you count calories, you tear up the treadmill, and… nothing.
That's how 40-year-old Sarah Donovan, an overweight mother with prediabetes was feeling…
She did "everything right" and never lost an inch.
Until she stumbled on this strange "carb-pairing" trick and burned away an unheard of 22lbs pounds in just 13 days.
And because of this one simple shift in her eating, she shed pounds and inches from her body without starving herself and without a lick of exercise!
With the same "carb-pairing" trick Sarah dropped a total of 37lbs in the FIRST month and she shocked her doctor by completely reversing ALL pre-diabetes symptoms!
If you're a woman over the age of 25 who wants to reclaim her life inside the body she DESERVES, you should check it out for yourself.